Xamp free csgo cheat is a new, and regular updating hack. Onerisss developed this hack and shared it on the MPGH forum.
Xamp Free CSGO Cheat Details
The Xamp csgo hack contains multiple options like Osiris cheat. There are different customization options in xamp. Aimbot, Triggerbot, Visuals, Chams, Fov changer, Skin changer, and misc settings.
The Xamp hack supports the loading and saving of cfg files. You can quickly load the custom configuration of aimbots.
Xamp Supported Anticheats
Onerisss on MPGH claims hack supports all csgo anti-cheats. including VAC (valve AC), SMAC, Faceit (Non AC), PvPRO (Non-EAC), and PopFlash.
More: more csgo hacks free download
Xamp Free CSGO Hack Features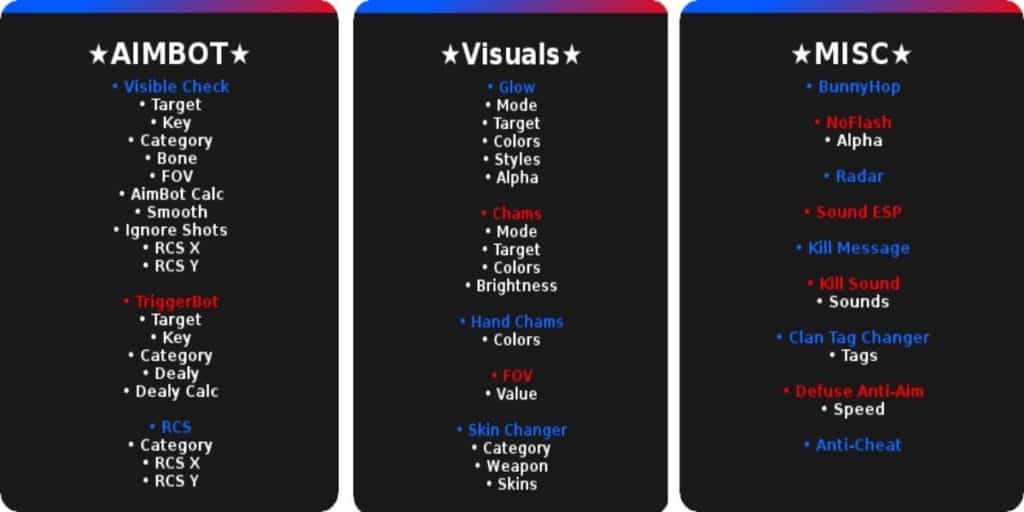 Aimbot: to make it look more legit settings include. fov changer shot smoother, ignore shots on different enemy encounters, and bind aimbot with a key for instant headshots.
Triggerbot: bind triggerbot with a key for close combat situations. configure it with delay and target settings.
Visuals: with this, you can make enemies glow behind the wall. settings include glow hack with customization options like colors, styles, mode, and target.
Skin Changer: the most wanted feature of all time in every single cs go hack is skin-changer. well, I will not recommend you to use this because a skin-changer in free hacks can get you VAC banned try a paid hack for this like aimware #1 best legit csgo cheat.
HOW To use Cheat
Open steam and csgo
Go back to the desktop and open AEXJnwaJOq.exe
Wait 5 seconds for the injection process
Press F1, F2, F3, F4 to operate the hack
Winrar Password – 123