Hey guys, The latest version of the most downloaded free csgo hack is now available on our website. The FluidAim CSGO Cheat is a legit internal undetected hack that will provide you with functions that are only available in the paid csgo cheats.
FluidAim CSGO is another free csgo hack that is too awesome and competitive compared to other paid options. This cheat is a direct copy of the popular cs go hack Aimware and has a separate option for aimbot and wallhack.
Functions of FluidAim CSGO Cheat
Aim – different options to smooth and rage your mouse aim

Enable aimbot
Triggerbot
Reaction time
Backtrack
Standalone RCS
The recoil control system improved

Visuals – different options to show chams and esp on other players

Box over enemy
ESP on all enemies and friends
Nametag of all other players
Weapon icons (dropped & equipped)
Chams (visible & occluded)
Grenade prediction
Third person, your main character
Move crosshair with recoil pattern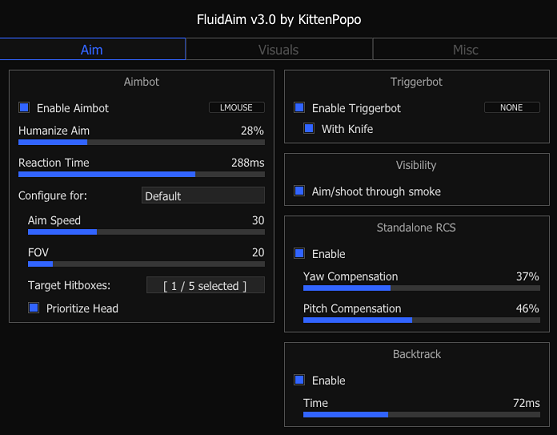 How to Inject & Use the FluidAim CSGO Cheat
Download the cheat from the button down below.
Get yourself a working and updated dll injector. You can download one from our website.
Use the downloaded injector program to inject the DLL into the game process.
Open the game and press the INSERT button to load the GUI.
Join the developer discord for help and suggestions.
Changelogs: FluidAim v3.2
The option to "Hide Everything in Screenshots" has been added so that you can take screenshots without fear of exposing your cheats.
Added "Hide Everything in OBS Game Capture" to allow for secure streaming and recording of gameplay.
So that you can see what you're doing, I made the menu invisible whenever the Steam overlay is active (shift+tab).
The menu has been made 2% cooler.
Backtrack was included as per the request.
Included the third person and adjustable distance coming soon.
We added some human-like behaviour to the aimbot.
We fixed an issue with the aimbot knife.
Fixed keybinds that were preventing middle mouse clicks from being registered
Winrar password: 123