Hey guys, If you were looking for a free AssaultCube Cheat Engine Table and want hacks such as infinite health, ammo, instant reload, unlimited grenades, and more, then you have come to the right place.
Our free AssaultCube Cheat Table will help you eliminate all the enemies and will provide you with all things in unlimited quantity. You can invisibly knife your opponents without getting detected on the map.
Functions of AssaultCube Cheat Engine Table
Player Health
Unlimited Armour
Infinite Big and Small Gun
Unlimited Grenades
Insta Small and Big Gun Reload
Fast Knife
Fast Grenade
Stay in the air (Air float)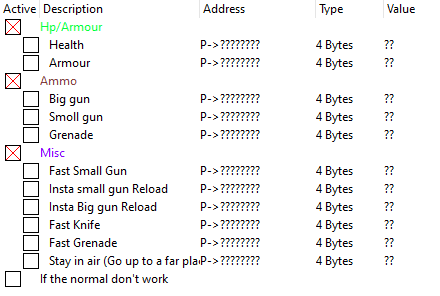 How to Use AssaultCube Cheat Engine Table
First, Download the AssualtCude Cheat Table from the below button.
Open the Cheat Engine program or download and install it from their website.
Extract the downloaded zip file to a separate folder.
Launch the game and do Alt+Tab on your keyboard.
Now Open the process in the cheat engine and select AssultCude game.
Activate the options you want and enjoy.
Password: 123