Hey guys, If you are looking for a new working V Rising Cheat for PC, then you have come to the right place and can free download the Vampitizer Hack from this page.
V Rising is an enthralling action-packed game that has captivated the hearts of many gaming enthusiasts. Set in a vast open world, players explore, build, and conquer as they transform into powerful vampires.
The V Rising Free Cheat tool lets you change and personalize your game options and functions in V Rising. With this cheat, you can turn on and off various choices that assist you in staying alive, discovering new areas, and battling in the game.
In this article, we will introduce you to some fantastic features that come with our V Rising Cheat. These include Player ESP, Container ESP, Blood ESP, and Infinite Zoom. Let's dive in and learn more about these incredible features.
Functions of V Rising Cheat – Vampitizer Hack
Below are the features of this awesome cheat you will get in the game:
Player ESP: Player ESP (Extra Sensory Perception) is a nifty feature allowing you to locate other players on the map easily. With this feature, you can quickly identify your friends or foes, making it easier to strategize and plan your moves.
Container ESP: Don't waste time searching aimlessly for valuable resources! With Container ESP, you can spot containers and other essential items from a distance.
Blood ESP (only for creatures above 90%): Our Blood ESP feature ensures you never run out of it. This cheat will highlight creatures with a blood level above 90%, allowing you to focus on hunting only the most potent prey.
Infinite Zoom: Explore the vast open world of V Rising in style with our Infinite Zoom feature. This cheat allows you to zoom in and out without limits, providing a better view of your surroundings and helping you spot important locations or hidden dangers.
How to Use V Rising Cheat – Vampitizer Hack
Follow these steps below to use the free V Rising Cheat safely on your system:
First, Download the cheat from the button down below.
Extract the downloaded zip file to the V Rising folder.
Now install the latest release of BepInEx Beta.
Next, open the main folder of V-Rising, which might look similar to the one shown below.
Start V Rising and have fun with the cheat.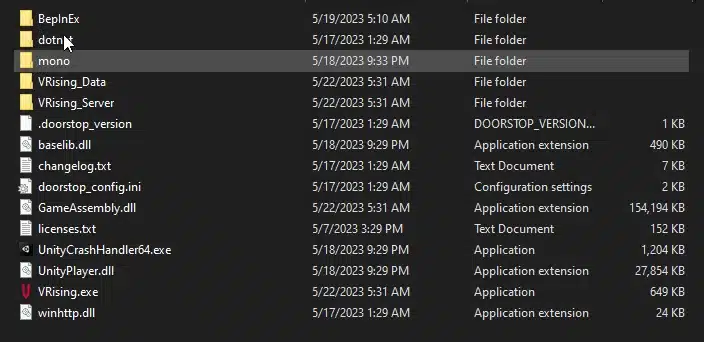 Remember, this is a beta version, so there might be unexpected glitches or crashes. After setting everything up, start V Rising and enjoy the game!
Password: 123