Hey guys, The first ever free Ghost Watchers Cheat is now available for free download on our website. Use this cheat to get Ghost ESp, Infinite Money, and many more functions in the game.
The game is pretty awesome as it replicates the format of the Phasmophobia ghost-hunting simulator. You can enjoy the game even more with our free cheat. Follow the guide on this page and start playing.
Ghost Watchers is a PC game full of eerie atmosphere and paranormal activity. The game puts you in the shoes of a ghost hunter exploring an abandoned mansion, where you must uncover the secrets behind the tregedy that befell the previous inhabitants.
As you progress, you'll encounter creepy apparitions and solve challenging puzzles while trying to avoid becoming a ghostly specter yourself. If you're a fan of horror games and love a good ghost story, Ghost Watchers is worth checking out.
Functions of Ghost Watchers Cheat
Player ESP Menu
Ghost ESP [Box, Label, Bones, Distance]
Player ESP [Box, Label, Bones, Distance]
Cursed Item [Label]
House Items [Labels, Distance]
Ghost Menu
Make ghost appear
Teleport ghost to you
Random Action
Make Noise
(Toggle) Ghost stays on top of you
Ghost Information
Player Menu
Give Money & Exp (1000 per click).
Set Host (change the Host to you)
Unlock Achievements (All steam achievements for the game)
Toggle Flying (w to fly)
Brightlight Note: This changes the light intensity for the house lights and spotlight
Player Information
House ESP
Open all doors
(Toggle) Keep all doors open
Turn on/off all lights
(Toggle) Keep lights on or off
Turn all faucets/taps on or off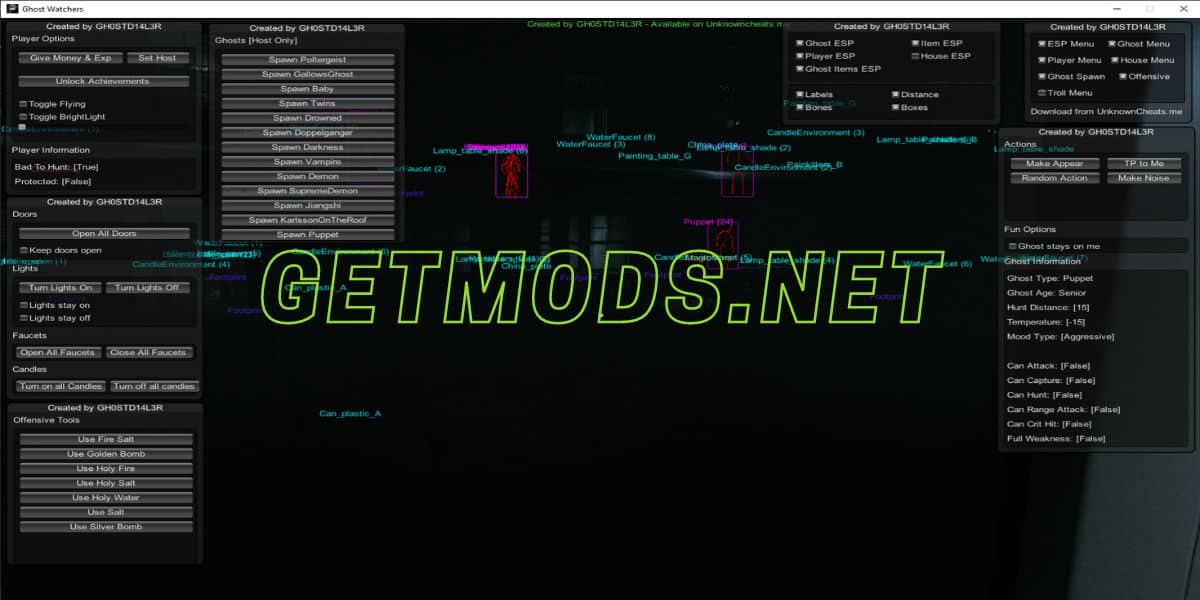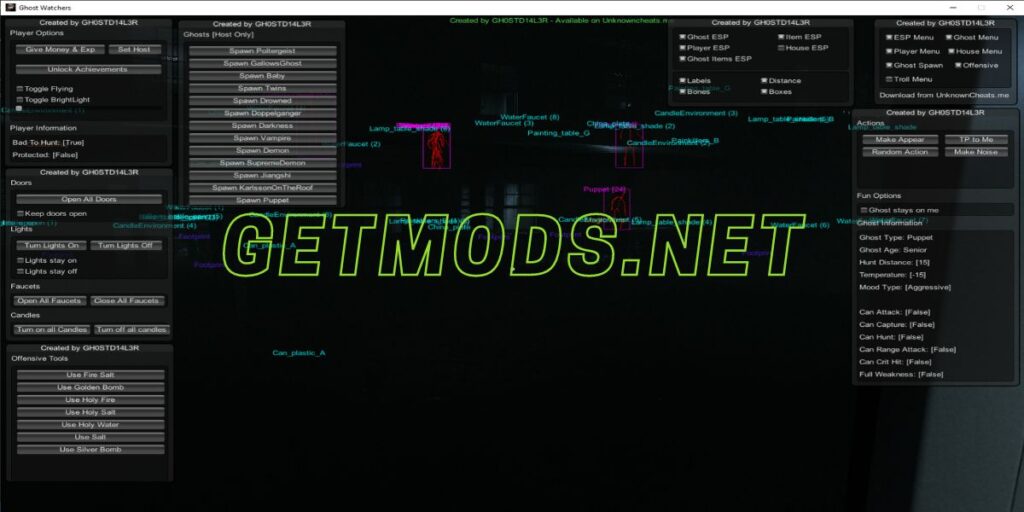 How to Use Ghost Watchers Cheat?
First, Launch the game and keep it running in the background.
Download and extract the cheat to a separate folder on your desktop.
Now download the SharpMono injector; it's required to use this cheat.
Open and run the cheat.
Select the game process and open it to the assembly to inject (GhostWatchers.dll)
Use these settings:
Namespace: GhostWatchers / Class name: Loader / Method name: init
Press the insert button to load the cheat menu.
GG, enjoy the game.
Password: 123