Are you looking for a game-changing performance in your favourite shooter game? Look no further than the new Bloodhunt Hack! This cheat delivers unparalleled gaming power with features like ESP, Aimbot, No Recoil, and more.
ESP allows you to see through walls and spot enemies before they can even fire their first shot. You'll get an advantage over your opponents before the match starts. It's also useful as a scouting tool – quickly scan the map to find resources or hidden shortcuts.
Aimbot helps you land shots better and faster. It doesn't matter if you're in a long-range battle or up close and personal – this feature will give you unparalleled accuracy without needing to adjust the aim manually. And if that wasn't enough, there's also No Recoil, which eliminates recoil, so you can keep firing with pinpoint accuracy no matter your weapon.
Plus, the Hack comes with an array of visual features designed to help your gameplay experience even further, such as wallhack, auto zoom-in/out, enhanced vision distance and more.
So what are you waiting for? Jump into the action now with Bloodhunt Hack and unlock unbeatable gaming performance!
Functions of Bloodhunt Hack Free Cheat
Visuals Tab

Player ESP & Radar
Player Skeleton
Player Snaplines
Player Name & Info

Loot Radar & ESP
Player Distance
Player Health & Shield Bars
ESP Max Distance
Knocked Player ESP Color

Aimbot Tab

Aimbot toggle
Aimbot FOV & Size
AimBot Bone To Shoot
AimBot Activation Key
AimBot Smoothness

Weapons Tab

No Recoil
No Spread
Aimed FOV Changer by Weapon Type

Misc Tab

GUI Transparency
Reload Config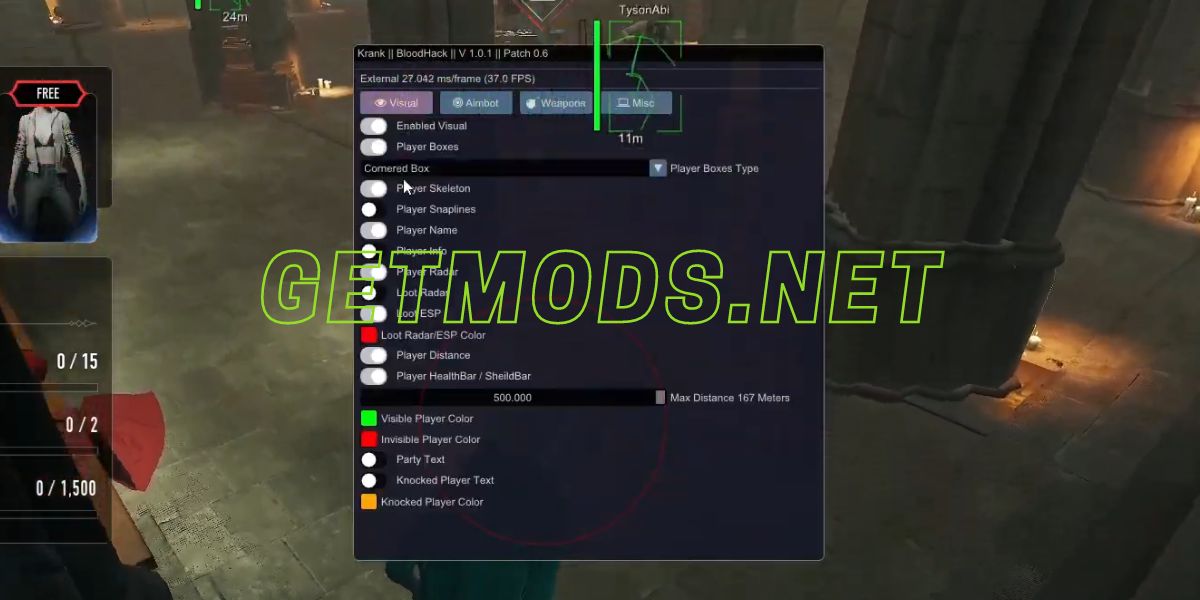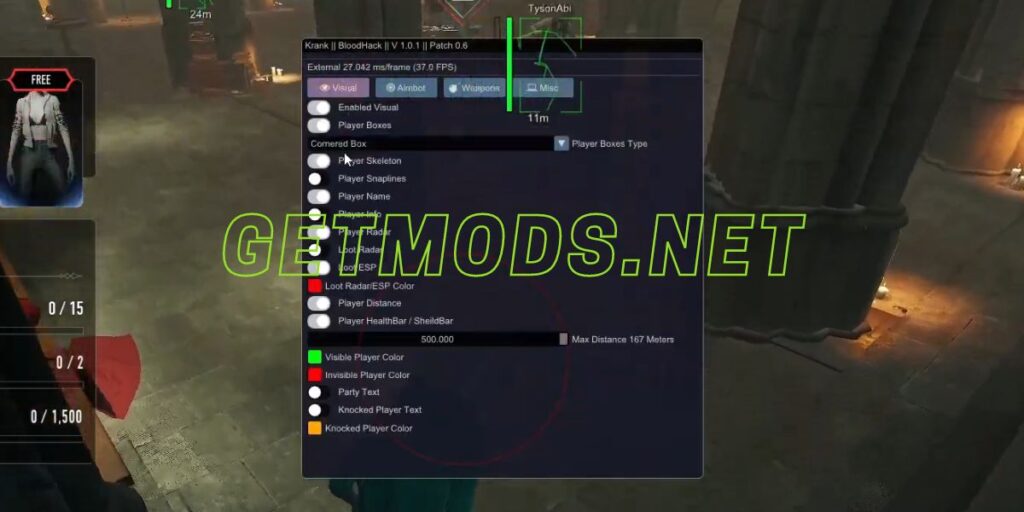 Background Features of Bloodhunt Hack
You can instantly reload the config, make changes and press the Reload-Config button in Misc.
The hack has its instance–a status icon is seen in the bottom left of the screen to indicate progress.
A red icon means no players are present or weapons are not loaded;
yellow indicates some players have been found but not weapons yet, appearing in Elysium;
A green icon signifies both players and weapons have loaded at Praga.
Crash Handler kicks in if your Praga shows a yellow/red icon, and It automatically disables features to help prevent crashing.
How to Use Bloodhunt Hack Free Cheat
Download the free Bloodhunt Hack from the below button.
Start the game and do Alt+Tab on your keyboard.
Extract the zip file to a separate folder.
Now run the BloodHacks.exe as administrator.
Enjoy the game.
Keys or Keybinds to use Cheat
Show/Hide GUI = INSERT
Show/Hide Visuals = HOME
NVIDIA: Set your gaming preferences to Borderless Window mode and DirectX 11 for maximum performance.
AMD: If Borderless Window and DirectX 11 don't give you the best results, switch to Fullscreen mode with DirectX 12.
Launch the executable file as an administrator once you're already in Elysium to get the most out of the cheat.
Support OS: Windows 10 (all versions), Windows 11 (22000)
Supported Resolutions: FullHD / 2k / 4K
Supported Game Version: Beta 0.6 (Current)