Red dead redmption 2 is a best story mode game for computer right now, if you have not played this game I'll recommend you to play it once and you will definitely love it not because of the graphics but the story line, the story of character arthur in rdr2 is very heart touching i literally cried at the end of arthur's journey, but today we are sharing a legit Red Dead Redemption 2 trainer hack for offline version of game.
Red dead remption 2 trainer is a legit free to use cheat hack for rdr2 created by flingtrainer, if you don't know about fling i want to tell you that he is just awesome, like I was using a game trainer software recently for far cry new dawn and the trainer was shared on a forum named WeMod, so basically wemod is a cheat trainer loader for offline games and its completely legal to use even i have a quarterly subscription of it and fun fact is Fling is an top cheat contributor on wemod forum he has published lots of top trainer for games and one of them is this red dead remption 2 trainer hack.
Red Dead Redemption 2 Trainer Hack Features
There are lots of new features in this red dead deamption 2 trainer hack all this function are working really good except No bounty it will glitch or crash your game when turned on so our recommendation is to keep it turned off.
Infinite Health
Infinite Stamina
Infinite Dead Eye
Infinite Horse Health
Infinite Horse Stamina
Infinite Ammo
No Reload
Infinite Items
Stealth Mode
Set Unlimited Money value to 999999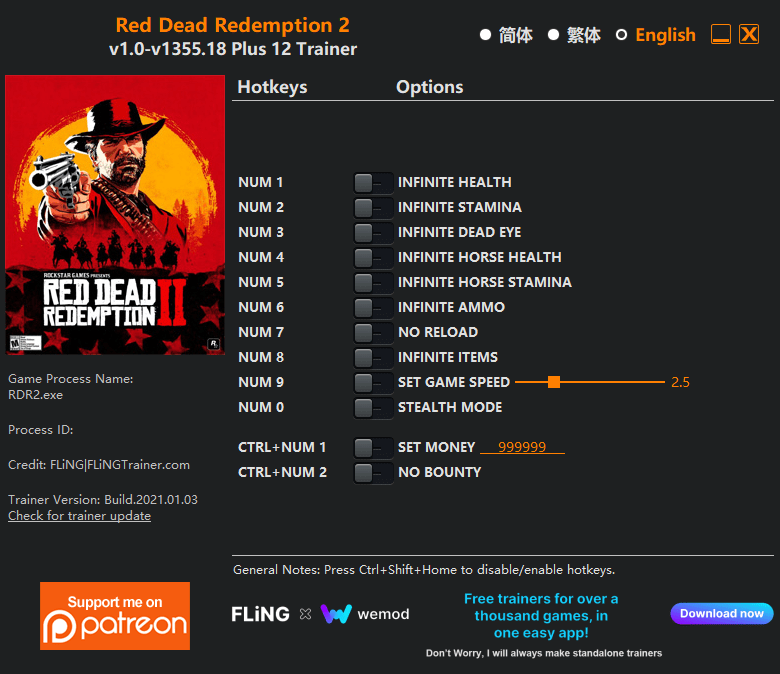 How to Download Red Dead Redemption 2 Trainer Hack
We have added short of steps below for you if you don't know how to use this trainer loader well its pretty easy to use it still will tell you.
Download the Fling Red dead redemption 2 Trainer from the provided link below.
Now start rdr2 game and open story mode saved game file.
After game fully loaded go back to downloaded file and just double click on it rest process is automatically done.
Done, enjoy the trainer in offline game.