Are you looking for a way to up your game when playing Friday the 13th The Game? Look no further – Trainer F13 has got you covered. This cheat trainer comes with an array of features that make playing the game much easier while still providing a challenging experience.
The Trainer F13 gives players unlimited health, ammo, and stamina, so they won't have to worry about running out at critical moments in the game. It also grants all counselors special abilities, such as faster movement speed and increased jump height. This will make it easier to outrun enemies like Jason Voorhees or escape his grasp.
The cheat also allows players infinite throws, so they don't need to worry about objects being taken away by Jason. Additionally, it increases awareness among characters and highlights enemies hiding spots on the map so players can easily spot them and avoid ambush situations.
Trainer F13 makes Friday the 13th The Game Cheat more fun to play without compromising its challenge level. With this cheat trainer in hand, you'll be unstoppable!
Friday the 13th: The Game is an online multiplayer horror game based on the popular slasher film franchise. Players take on the role of either Jason Vorhees or a group of camp counselors as they attempt to survive a night of terror at Camp Crystal Lake. Players must use their wits and cunning against each other to survive, while Jason wields supernatural abilities like Shape-Shifting and morphing to hunt down the counselors. Survive if you can– You never know who might be lurking in the shadows!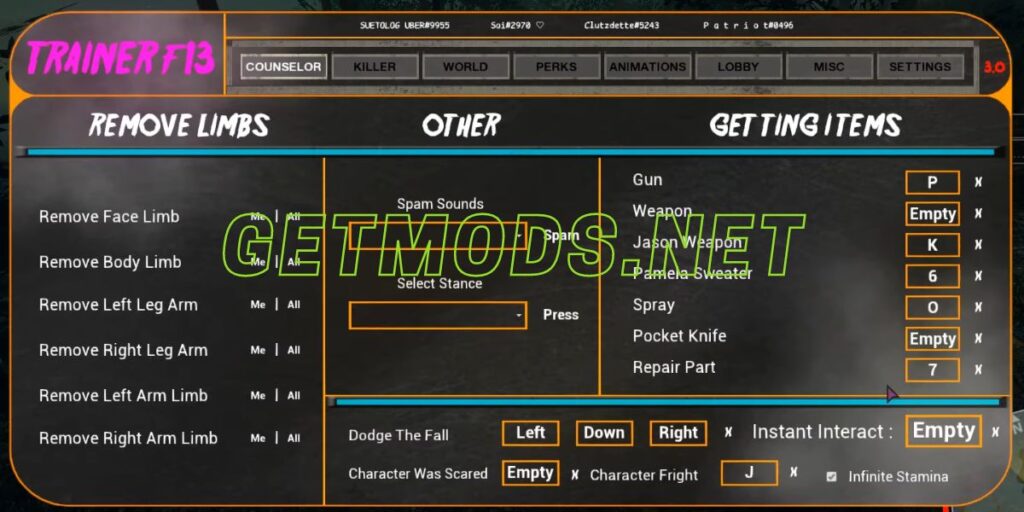 How to Unpack Friday the 13th the Game (Step 1):
You must have the game fully unpacked to use the Friday the 13th Game Cheat:
Get the unpacker (provided with the cheat).
Unzip to any location and execute quickbms_4gb_files.exe
Select f13.bms, and then select F13Game\SummerCamp\Content\Paks\SummerCamp-WindowsNoEditor.pak, then choose the output root folder of the F13 game when asked.
You should see this in the console window: "- please insert the content for the variable KEY:" type 0 and press Enter.
The unpacking process will begin – if you encounter a prompt like "The following output file already exists. Do you want to overwrite it?" type "a" and press Enter.
Wait for it to finish – depending on your device's performance, it might take a while.
When done, go to F13Game\SummerCamp\Content and delete the Paks folder.
How to Use Friday the 13th the Game Cheat Trainer (Step 2):
First, ensure Step 1 is completed.
Download the F13 trainer using the blue download button.
Unzip the SummerCamp folder into the F13 root game folder.
Run the game from Steam desktop app.
Finally, use F7 key to open up the cheat menu.