Hey guys, The new Elite Dangerous Cheat Trainer is a simple and easy-to-use cheat packed with helpful features and is now free to download on our website.
Elite Dangerous is a space simulation game that has undergone significant changes. The old footage of the game is unrecognizable compared to its current state, thanks to upgrades in graphics and gameplay.
Set 1300 years in the future this strategic game requires careful planning. While cheats for most games are available, we have also shared a cheat trainer for Elite Dangerous for those who seek an added advantage.
If you're new to Elite Dangerous and the Elite Not So Dangerous Trainer Cheat has caught your eye, you've come to the right place. Below, you'll find a brief overview and instructions on how to use this cheat.
Functions of Elite Dangerous Cheat Trainer
Shield Damage
Hull Damage
Module Damage
Fuel Scoop Multiplier
Hyperspace Animation Speed
No Jump Change
All Directions Jump
No Cooldown
Drop off at Target
All Directions Scan
All Scanner Speed Multiplier
Distant Planer Scan
Distant KWS Scan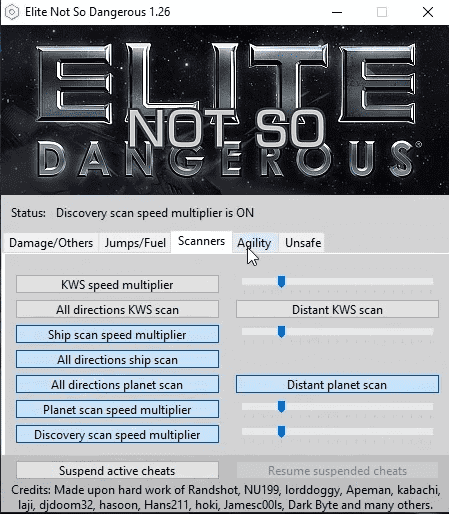 How to Use Elite Dangerous Cheat Trainer
First, Download the Elite Not So Dangerous Cheat Trainer.
Extract the zip file to a separate folder on your desktop.
Download and install the cheat engine program if you already have it.
Launch the Elite Dangerous.
Open ENSD_.CETRAINER in Cheat Engine (version 6.5 or above)
Activate the options you want and enjoy.

Version: 1.40
= Internal changes for game update