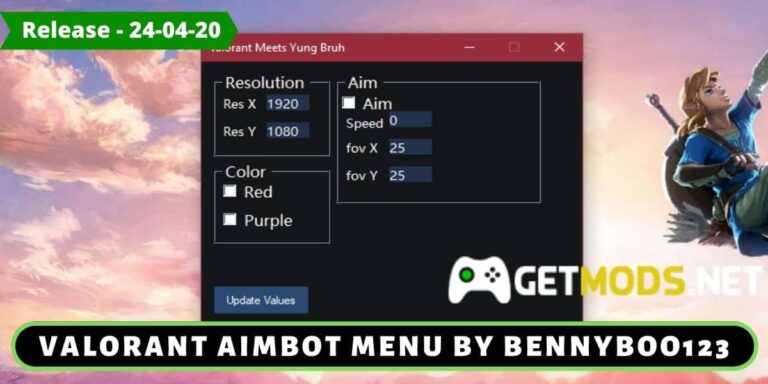 | | |
| --- | --- |
| Item Type | Cheat/Hack |
| Game Name | Valorant |
| Developer Name | BennyBoo123 |
| Last Updated | 24-04-2020 |
MOD INSTALLATION AND OTHER DETAILS
Hi, Gamers! The provided cheat/hack is Valorant Cheat Aimbot Menu New Undetected Hack, by injecting this into game you will get benefits and some fun in game. 
This cheat is an compiled version of blufires source code from that Bennyboo123 made this menu. 
Installation Process
First Download the Valorant Cheat Aimbot Menu from the provided link below in the end.
Now Extract the chat to a seprate folder, Start valorant and go back desktop.
Now run Yung Bruh Aim.exe as administrator.
Change values accouding to your needs and click on update values to work.
Best working settings tested
Speed = 1
Fov X = 50
Fov Y = 50
If you have = 1920×1080
Game Name: Valorant PC Cheat.
Winrar Password: getmods.net